Last Minute Event Preparation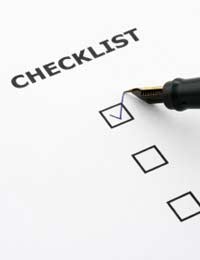 The final day before the event is not the time for a last minute breather, it is the crucial stage when the final checks are carried out and any kinks ironed out.
Crucial Last Minute Preparations
By the eve of the big day, all the weeks and months of planning should have fashioned an event that is all but ready to welcome its first guests. But don't be fooled into thinking the organiser's job is over, their last minute preparations are a crucial part of the event planning.
The New Plans
In anticipation of the final 24 hour pre-event rush, it is advisable to draw up a new set of plans that will detail all the last minute checks and preparation that need to be done. This is something that you will need to think carefully about independently, as each event will warrant its own unique last minute plan.
Draw up a checklist detailing everything that you need to take to the event site. You should start collecting everything you need as soon as you've compiled this list, and then tick each item off once you've added it to the pile.
Security and Safety Checklist
Final checks of all safety and security aspects of the venue should always be one of the last things before the event begins, but not too late that there is no time to rectify anything not up to standard.
On the day before the event it is good practise to wander around the site looking for potential safety and security hazards. Questions to ask yourself as you look around could include:
Are all the entrance and exit points clearly marked and easily accessible?
Is the venue clear of potential public hazards such as slippery floors or risks of tripping?
Are all non-public access parts of the venue well guarded and clearly marked?
Is all electrical equipment installed and certified? Is it located away from public areas and protected from potential misuse?
Is the fire emergency equipment in place and is it in good working order?
Is there a clearly labelled first aid room?
Checking the Site Facilities and Accessibility
Whilst surveying the site try imagine yourself as one of the guests. Is it clear, right from approaching the site to wandering around inside, where everything is? Are the toilets easy to find? Is there adequate disabled access?
This 'run through' experience can be further enhanced by trying out as aspects of the event as possible. For instance, the lights can put on to see if they work and provide the appropriate atmosphere. If the event features any performances then this is a good opportunity for a sound check, so that all the sound levels can be worked out in advance and any technical hitches identified.
Worse Case Scenarios
As a final part of the planning stage it is worthwhile brainstorming some worst case scenarios with your organising team, and deciding how you would deal with them? If it is an open air event then what would happen if the weather turned sour? If a star guest failed to turn up then what would happen to save the mood turning sour?
Such discussions may not be able to completely solve the problem but they will help relieve any panic situations on the day, which can be ruinous in themselves.
Timetable
It is also a good idea to use this time to draw up a detailed timetable for the event day. This should present a chronological plan of what is supposed to happen and when, and who is responsible for making it happen.
The more specific it is – such as including aspects like when the taxi is due to take you to the venue – the more reassuring it will be, enabling you to deal with the course of events in a focused and measured way.
You might also like...