How to Have a Party Outdoors in Winter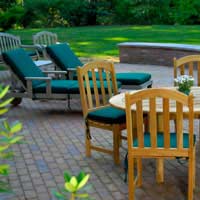 This can be a great idea for those with a birthday in winter or for those that want a Halloween or Christmas party, you don't all need to be huddled together freezing. There are plenty of ways to throw a successful party in less than perfect conditions.
Shelter From the Elements
Due to the time of the year there is the likely hood that it might rain, even if it doesn't then you need a bit of shelter to protect against the chill of the wind so your guests don't get cold. Whatever shelter you choose I would recommend having it as near to you house or venue as possible, this way the heat of the house will keep the temperature slightly higher. The easiest, most reliable form of shelter is a marquee, these can be rented quite cheaply or if you intend to have many outdoor parties then you can buy a decent sized one for around £150.
A marquee will protect you from rain, give some shelter from the wind and is a good place to put food and drinks out of the grasp of nature. If it is windy then make sure that these are secured well as the last thing you want is to lose your marquee to an over zealous gust of wind.
Food and Drink
Good, hearty, warming food should be served at your winter party; guests don't want to be eating cold foods like salads all the while. Think along the lines of a hog roast for your guests, this warming food will ensure that even the coldest guests warm up a bit. You should also provide a wide variety of hot and cold drinks, maybe even consider serving a bit of mulled wine if it is close to Christmas. Other good drinks choices are coffee, tea, whiskey and baileys make sure there are enough option for those that do and do not drink alcohol.
Warmth at a Winter Party
The most obvious idea for warmth at a winter party is to have a bonfire, which would tie in well if you were throwing the party for Bonfire night. If you don't like the health and safety implications of a bonfire or don't have the space then you might want to resort to smaller more manageable sources of heat. A good option is an electric heater, like the ones found in beer gardens, these are quite pricey to buy but can be rented. Another good option is to buy a burner or fire pit; these can be moved and dotted around your outside space to ensure that everywhere is heated; they can be bought from garden centres and home improvement stores. It is also a good idea to put some music on, people are bound to warm up once they start dancing.
Dress Code
You can't really invite people to an outdoor party telling them to wear formal wear, everyone would get cold and miserable leading to people staying in doors or going home early. On your invites it is best to specify that warm clothes should be brought along just in case it is really cold. Once the drinks start flowing and people start mingling they will warm up and can take their hats, coats and scarves off.
You might also like...