Ways to Get Last Minute Tickets for an Event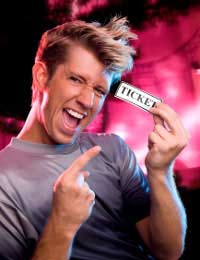 Tickets for popular events, especially concerts by well known artists and theatre events, often sell out quickly and it is extremely difficult to buy them in the run up to the event. This can lead to frustration and heart ache but don't panic until you've tried everything. There are many different ways in which you can get your hands on tickets...
Ticket Websites
There are lots of websites who allow people with extra tickets to sell them on to keen buyers. They are useful to buy tickets to popular events that you are keen to see but can often be extremely expensive and not everyone is prepared to pay over the odds for tickets. Another problem with these websites is that it is hard to tell the legitimate ones from the fake ones. Many people are reluctant to give their payment details and therefore reluctant to buy tickets off them.
Auction Sites
Another option is online auction sites such as Ebay. These are less expensive than the websites mentioned above as the prices depend on other bids and are not set by the sellers. When buying on an online auction site, you will most likely pay more than the face value but you can chose the highest amount you are willing to pay.
Most auction sites also don't allow tickets for free events to be sold. This is true for events such as Radio One's Big Weekend. As these tickets are given away free by the station a lot of site don't allow ticket holders to sell them as they never paid anything in the first place.
Call the Venue
Another, less well known way of getting last minute tickets is to ring the venue in the few days before the concert as often people book VIP tickets and don't pick them up. The tickets then go on resale just before the event so it is a really good way of getting amazing seats for your favourite event at excellent prices.
You may also find that there have been cancellations, that frees up the tickets for you to buy. However, these tickets get snapped up quickly for otherwise sold out events so you can't afford to be too picky.
Often if there haven't been any cancellations when you call, the box office may take down your number and give you a call if any tickets get returned.
On the Door
If you have tried all other avenues of getting tickets, a last resort is to buy them at the door. At most events, there are people who have spare tickets trying to sell them and it is possible to get a bargain if they are desperate to sell them but this isn't guaranteed.
The only way to guarantee that you get to the event you want to attend and don't get ripped off is to buy them from a reputable website when they first go on sale. You can sign up to website newsletters to ensure you don't miss out on your favourite events.
You might also like...