How to Get Free Tickets for an Event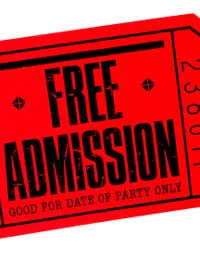 As we all know, tickets for events are expensive whether it is for a concert, festival, theatre production or party and not everyone has the funds to attend all the events they would like to but there are ways around it. Here are a few hot tips on how to attend your favourite events for free or at a huge discount.
Music events
Music festivals and concerts are one of the most popular types of events which people in the UK like to attend and it is a massive industry but there are ways to see your favourite acts without breaking the bank. The most popular way is to offer to work at an event as you get to attend it for free and still get to see your act of choice. It isn't ideal for everyone as you will have to put some work in but is a good choice if you don't mind a bit of work with great rewards. There are lots of websites where you can find out how to apply to be a steward, work food stalls or become promotions staff, you just need to keep an eager eye out. Another way to get free tickets for gigs is to approach your local newspapers/magazines/radio shows/websites and find out if they need anyone to attend the event and report back on it. Often they will have their own journalists but occasionally they will let others have the chance to gain some experience.
Sports events
Sports events such as football matches are huge in the UK and tickets are often quite pricey. As with music events, the best way to attend without paying a penny is to offer to work, either as a steward in the stadium or in the bars where people go at half time. This isn't too popular a choice as you can often be too busy to catch any of the action.
VIP parties
These can be the hardest events to get into for free, especially if you aren't on the guest list but as with everything, there are ways. Again you can offer to work in the bar or as a promotions girl or try and blag your way in at the door. The most popular way to attend these events successfully for free is to get work experience with an events/PR company and attend as part of your work.
The art of blagging
Now this might not be the easiest or most recommended way of getting into a party for free but if you learn to blag then you won't have too much trouble going where you want to.
Claiming that you know the producer of a show might backfire when the person on the door finds the producer to vouch for you but claiming that you can write about the event on Twitter/Facebook/your blog to give them valuable exposure might be a good way to attend the best events.
If you do have a blog then it could be gateway for all things great. Blogs are big at the moment and a lot of PRs are really trying to push coverage on blogs. Get in touch with a few PR agencies who deal with the events most relevant to your blog. You never know they might invite you along to something truly spectacular.
You might also like...