How to Complain About Your Tickets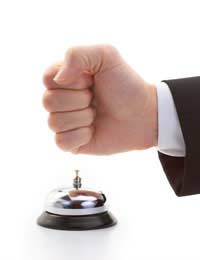 If you are the unfortunate end of a problem with your theatre or concert tickets then there is action that you can take to ensure your consumer rights are upheld.
Sidestepping the Need to Complain
To avoid any upset later, it is vital that when you book your tickets you are aware of the exact details of your ticket, including seat location, visibility restrictions and the date and time. Once you have received the seats then be sure to check again that all the details are correct. If anything is wrong at this stage then it is much easier to rectify with the service provider.
What to do if the Tickets are not as Described
If you are unfortunate to find there is a problem with your tickets, such as there being the wrong number, being for the wrong date or the seats being in the wrong location, then contact the ticket agent as soon as possible and ask for the error to be rectified.
The Customer's Second Step
If the ticket agent doesn't send the correct tickets then there are two options you can take – formally reject the tickets or go to the event but claim for any loss in money or enjoyment caused by the error.
If you decide to formally reject the tickets then they should be returned to the seller along with a letter informing them that you are rejecting the tickets because they do not correspond with the original booking description.
If you decide to attend the event but complain and claim for your losses later then you must inform the agent of your intentions in advance, otherwise they may reject your claim on the ground that you 'accepted' the tickets. You can inform the agent that you attended the event because you have an obligation by law to keep losses to a minimum.
If the tickets you received were of a lower value to those you originally booked –if the seats were in an inferior position for example – then you are entitled to claim the difference in cost from the agent. It is also possible to claim for any loss in enjoyment, such as if you were given restricted view seats by mistake, although this is harder to gauge.
Complain About Ticket Problems – The Next Step
If the agent is still unforthcoming with compensation for your ticket problem then, depending on the situation, there are two options open – complain to the Society of Ticket Agents and Retailers (STAR) or claim a refund from your credit card company.
If the ticket seller is a member of STAR then they offer a customer complaints scheme that you can pursue. Although this is unable to force an agent member to pay you compensation, if the complaint constitutes a breach in the code of practise then they can face warnings, penalties or ejection from STAR.
If the agent is not a member of STAR and you booked the tickets with a credit card then it is worth investigating to see if you can claim a refund from your credit card provider.
Final Step
If neither of these two options are applicable or helpful then you can take the ticket seller to the small claims court for violation of contract.
Also in addition to this, if you believe that the agent misleadingly described the tickets or otherwise broke the law then it is your responsibility as a consumer to take up the issue with your local trading standards department.
Avoiding Any Problems
To avoid any such problems occurring in the first place then here is some basic advice to follow:
Avoid private sellers because there is a greater chance of something going wrong. Also if something does go amiss then you have fewer rights and it is often harder to trace the seller.
Only buy tickets from a ticket agent that is a member of STAR (the Society of Ticket Agents and Retailers).
Keep all correspondence relating to your ticket booking.
Always look over the agent's terms and conditions before booking a ticket.
You might also like...
I bought my tickets online on Friday from Viagogo and they were e-tickets confirmed to have been bought, but when I checked the purchases after logging back into my account, the tickets were gone. So is there any way that you could find them or send me a replacement ticket. Thankyou.
Lyds
- 29-Mar-17 @ 9:51 PM
Hi, I purchased a ticket for the red hot chilli peppers concert at MEN and a night in a hotel for 15/12/16 as a birthday present for my son using a credit card. At the time of buying the ticket I was unaware that the ticket purchaser needed to attend the concert, I can't attend as I have a 13 year old who needs to attend school and I have to work and the event is over a 200 mile round trip. I lost my email and requested an confirmation. See tickets, who Ibrought the ticket from are no will to send me a ticket in my find name, tickets haven't been released yet, and they are unwilling to contact the event organiser to request a ticket in my sons name. I have a ticket that cost £90 and a hotel room £70 that I can't use. See tickets have suggested that I commit fraud and my son pretend he's me
Donna Thornton
- 26-Nov-16 @ 4:01 PM