Getting Tickets for Popular Events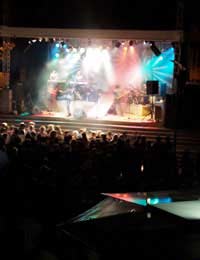 Getting tickets for popular shows can be a frustrating experience so to aid securing a seat at that West End hit or prestigious Albert Hall concert, here are some tips.
The Maddening Experience of Getting Tickets for Popular Events
The internet may have made booking tickets easier than ever, but paradoxically it is now often harder to get the event tickets you want. This has become a particular concern in the area of live music, where demand for tickets can often far outstrips supply.
The popularity of online ticket buying, and also the less healthy trend of 'secondary ticketing' – where people buy tickets to sell-out events in order to sell them on and make money – has made getting hold of a ticket for a popular event a maddening experience.
Face Value Ticket Exchange
So named because it's what music fans see before they go psychotic with rage at the injustices of the modern concert ticket buying experience, Scarlet Mist is an ethical ticket-exchange that offers an alternative for music fans.
It attempts to ease the fury and frustration of the dejected ticket-less fan by providing a fair alternative to being fleeced by a ticket tout. The service operates like a dating agency in that it introduces music fans who are willing to trade tickets at their face value.
Internet Agent Preparation
If the event is expected to sell out with very short period of time – such as the Glastonbury music festival – then here are a few tips to braving the internet ticket agent crush:
Log on the website five or ten minutes before the sale commences.
If it is a seated event, then it is not always wise to blindly go for the first tickets available. The best seats are not necessarily released first. Carefully asses whether it is a seat you'd be happy with.
Don't panic when the screen says 'tickets are not available'. This is not necessarily mean they have sold out – big events often release tickets in waves to try and ease congestion.
Keep a Calendar
The best way of securing tickets for popular events is to plan ahead and be get in there early on the date they are first issued. Many of the people who decry missing out on tickets and end up paying the tout mark up were just slow to act in the first place. Lots of events sell-out but over a long period - very few actually sell out within hours.
Review Advance Warnings
If you don't want to miss out the date concert tickets go on sale then it is recommended to sign up to any mailing lists or fan clubs they might operate. These should keep you informed about all the latest official tour information and, if you're lucky, might even rustle up the odd fan-only exclusive gig.
Another good option for the latest up-to-date information is to regularly browse the artist's message boards. Members are also more likely to be invited to a ticket presale, so that they can get their hands on tickets before they're available to the general public.
For advance warning about theatre shows there numerous websites offering early warning email services, including www.lastminute.com and www.ticketmaster.co.uk. Although pricey, the Society of London Theatres' postal 'The Theatre List' is good for giving long range warnings about scheduled new shows.
The advantage of the theatre over gigs in terms of getting hold of tickets is that popular stage shows will often extend their run to accommodate overwhelming demand. Music concerts are more 'one-off' affairs and consequently prompt greater ticket competition. Nevertheless, certain West End shows can be booked solid for months, so if you can't wait and are desperate to see a particular show then it is worth paying a visit to the Half Price Ticket Booth.
Half Price Theatre Ticket Booth
Since first plying its trade in 1980, Leicester Square's tkts booth has become renowned by theatre-goers the world over for selling on-the-day bargain tickets for London's major theatres. As long as you're not too fussy about which show you want to see and where you want to sit, then it is not only a great way to get a ticket for a sold-out show, but also get between 25% and 50% knocked off the price.
Caution should be exercised for any other booths purporting to offer cut price theatre tickets, as the tkts booth is the only official discount outlet.
Standby Tickets or Returns
If you are fussy about what show it is you see, but still want to see it the same day, then it is worthwhile going directly to the theatre box office first thing, and ask whether there any standby tickets or returns.
You might also like...