Help with Planning the Event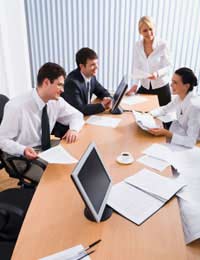 Whether large or small, the key to any event's success is in the plan - if it's good, the occasion will be well remembered, but if it's not then it might be something people would want to forget.
The Importance of the Plan
There may be some aspects of life that can be organised off-the-cuff, but an event is not one of them. In involving so many critical details, so many potential hiccups, not keeping everything tightly ordered in a plan framework is a risk not worth taking.
A plan is essential for the smooth running of the event and the peace of mind of the organisers. With so much depending on it, organising an event can be a stressful process at the best of times, but if you are not certain what's happening when, or whether you've forgotten something vital, it can drive you to madness.
A plan eliminates worries and uncertainties by putting every aspect on paper where it can be plainly seen and understood, and enables you to coordinate decisions and track your progress.
The plan is also essential for clearly communicating the progress to everybody else involved. Everyone needs to know what role they are playing and how they fit into the scheme of the organisation.
The Organising Committee
The event organisation should begin by appointing the members of the organising committee and the chief coordinator or 'chair.' The role of the chair is vital as it is their job to make all the final decisions and resolve any issues of conflict. It should be their responsibility to keep track of:
what has been completed
what still needs to be completed
who needs to complete it
when it needs to be completed by
Each committee member should be given a specific area of the event to assume responsibility for. This could for instance include sponsorship, entertainment or finance. They should have appropriate skills and knowledge to carry out their specific role for the event.
In order to keep the planning committee operating together in a unified whole and not disparately, regular meetings should be held between the chair and the members. This will give everybody an insight into how the event is progressing as a whole and provide an opportunity to discuss any problems or ideas.
Creating the Plan
The meetings between the organising committee will also provide a valuable stage to formulate the plan itself. Instead of one person dictating a pre-written plan to committee members, it is a more engaging practice get everybody involved in the operation from the beginning, allowing everybody to contribute ideas, potential problems etc.
The initial event outline plan devised by the organisers should include all aspects of the event, such as transport, entertainment, catering, venue and facilities, as well as the key issues like venue insurance, licensing and permissions.
Progress Reports
In addition to meeting updates it is very useful to compile an event calendar or timeline. This will clearly show everybody everything that needs to be done and when. It should feature aspects such as when payment for equipment or venue hire is due.
Investigating your Plan
Once the initial plans have been agreed amongst committee members then the next stage is to find out whether they are realisable.
One aspect is to investigate the venue first-hand; does it have the right atmosphere, does it have adequate parking and transport connections? Another is to contact appropriate local authority officers – such as those concerned with licensing, environmental health, transport and events and recreation - to see whether your project is viable and would get the green light.
This is particularly important if your event is outside in a public space. Would you need planning permission or entertainment licenses?
Another important stage of the planning process is in talking over your ideas with the local emergency services to help you assess any potential health and safety issues.
You might also like...