Choosing a Venue for your Event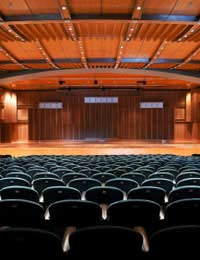 The venue is not merely a box in which to contain your event but an integral part, and so choosing the right one can have a decisive effect over its success.
A Crucial Role
The venue is a crucial part of the event experience and so should be chosen with care. Besides providing a roof over the guests, the venue has many different roles to play, including offering a suitable performance space, pleasing atmosphere, adequate facilities and accessibility.
The Right Sized Venue
Judging the size of the venue is a carefully weighted decision. You might want as many people to attend your event as possible, but at the same time, if it's too large then it risks being left half empty - a sure fire way to kill an atmosphere.
However, not all events benefit from a large crowd. Certain performance-based events – such as particular theatre and music shows – are suited to a more intimate environment where the acts can build a more personal connection with their audience, and the attendees are able to see and hear everything going on.
It is therefore important to make sure the venue complements the event.
The Best Location
There might be many people who really want to attend your event but just find it too difficult or inconvenient to get to.
Even though most people have access to a motor vehicle, it is recommended to not rely on people to make use of it in attending your event. So as not to unfairly limit your audience, if possible your venue should be accessible by public transport.
This is particularly important for evening events where alcohol is served. Many potential guests might be put off from attending if they are unable to let their hair down and have a good time, because they have to be a responsible driver.
Venue Facilities
The facilities already available at a venue should be carefully considered, as they might save you a lot of hard work and future headaches.
For instance, if you had planned on hiring a firm to provide event catering, it would save a lot of trouble and money if the venue itself offered its own catering facilities, or at least the use of a kitchen. Some other important questions worth asking of a venue include:
Does it have car parking?
Is there disabled access?
Are there enough seats and tables?
What electronic equipment is available?
Does it have a cloakroom?
Considering the Costs
Ultimately, it might offer a superb environment, location and range of facilities but can you afford it?
It is not worth stretching the budget too much to accommodate the perfect venue, but it may be worth bargaining with the price. Some venues offer discounts for charities and non-profit organisations so it is always worth asking.
It is also important to ask about the additional costs, such as whether the venue's insurance will cover your event, or whether you need to take out extra cover.
Is the Venue Available?
Booking the venue should be one of the first priorities in the event planning stage once the project has been given the green light. This is not only as this will provide a solid foundation from which to plan around, but because in being such an important aspect to any event, good venues are snapped up fast. Many popular venues can book up months, even years, in advance.
Once the venue is booked, always be sure to check when it is to be paid for and then make sure it is paid on time!
Cancellation Policy
Although it may seem dispiriting to think about the venue's cancellation policy during the exciting planning stage, you never know what unforeseen circumstances are ahead, and so it is better to be safe than sorry and out of pocket.
Enquire with the venue what their cancellation policy is. Will you lose deposit money if the event has to be cancelled due to unforeseen circumstances? Is there a 'cut off date', prior to which any cancellations will be refunded in full?
You might also like...