Event Catering Considerations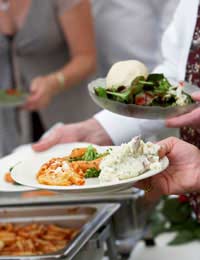 Guests tend to be happier and more receptive to your event attractions if they are well fed and watered, so it is worthwhile giving careful consideration to your event's catering facilities.
A Happy Guest is a Well-Fed Guest
Catering can take an array of different forms according to the event type, the budget and the appetite of the guests – from sandwiches and sausage roll buffet to a lavish three-course meal with wine and coffee.
It is sensible to assume that guests would like food and drink to be available, but unless it is an integral part of the event – such a birthday celebration – it is best to keep it modest and functional, otherwise it will eat a big hole in your budget.
How modest and functional will depend partly on the timing of the event. For example greater effort should be made if it is an all day event, occurring across meal times, otherwise guests will leave once their bellies start rumbling. A late evening event on the other hand will only need to offer snack options at the most, with greater attention instead paid to drink availability.
Drinks Licence
If you plan to sell alcohol at your event, and your premises are not licensed already then you will need to look into applying for an alcohol licence. This can be initially quite a complicated procedure and your plans must take into account the several weeks it can take for the licence to be issued. For advice about this it is worthwhile contacting your local council.
Although it certainly won't raise funds for your event, an alternative could be to allow attendees to bring their own drinks. This will encourage guests because it gives them a cheap night out and also may make for a more relaxed and informal atmosphere.
Onsite Catering
If catering is a significant aspect to your event plant then it may be worth including within your list of venue requirements. Many venues provide on-site catering and it usually offers a cheaper and more trouble-free alternative to hiring a catering company.
Outside Catering
If fine quality catering is a significant aspect to your event plan then it might be worth hiring the services of an outside caterer.
Begin by obtaining quotes for the event from a few different catering firms to assess whether the cost fits within the means of your budget. Make sure that this includes delivery charge, as this may come as an unwelcome surprise later on.
The costs for outside catering will likely be partly recouped through the ticket price, so it is important to push the standards beyond what potential guests are willing to pay.
Extra Considerations
Vegetarianism is now a common dietary choice across the UK and so to keep everybody happy, make sure that there are enough meat-free food options available. As a rough guide, it recommended to order half veggie and half non-vegetarian food.
If you event incorporates a sit-down meal as part of the programme, then be sure to ask your attendees whether they have any special dietary requirements.
You might also like...