Can Anyone Organise an Event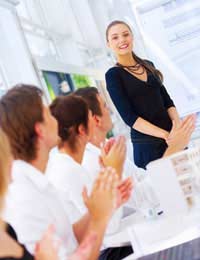 Organising an event may seem like a daunting task, that involved a lot of stress, hard work and money, but is it really so difficult? Can anyone do it?
Make it Happen!
If a charity needs supporting, an occasion needs celebrating, a political cause needs promoting, then you don't have to wait around for someone else to stage an event, you can organise your own. With careful and sensible planning anyone can create an event to remember.
If you have an idea that you believe in and the courage to see it through then you can make it happen!
Anything, Anytime, Anywhere, Anyone
Events can be organised by schools, charities, organisations, work colleagues, friends, or just by individuals.
Organising your own event is limited only by your own ambition and imagination. It could be a large or small event, a community event – such as a dance, a dinner, a fete – or a sporting activity, arts event – such as a concert, exhibition or festival – or a charity or political campaign event. The possibilities are endless.
A Daunting Prospect
If you've never organised an event before, then to take charge of creating will probably seem like a daunting prospect. However, if organised with due care and attention you'll find it much easier and less overwhelming than you might have imagined.
And at the end of it, you will be left with a great feeling of personal achievement, and not just in having overcome your doubts and fears, you will have also learnt some valuable skills and life experience, and hopefully achieved your initial aim.
Be Inspired by Others
If you have an event idea that you want to make happen but need some ideas to get you started, then why not visit some similar events in your local area to get some inspiration. The internet is great resource for finding out what events are going on in your area, from the major shows to the small individual efforts. For instance the WaterAid charity site runs a useful UK event search facility.
Whether you're aware of it or not there's always be something going on, and you can not only go along and take notes, but talk to the organisers and ask them for advice.
Keep it Simple
Event organising seems like a lot of hard work, but it doesn't need to be. Lavish affairs, set in grand venues, with star performances and fine catering, are the exception rather than the norm – most are modest low-budget occasions with simple but effective ambitions.
When thinking about organising an event, it's easy to get carried away and start reeling off all the great things that you want to include. However, the more complicated and ambitious the plans become, the more difficult they are to execute, and the less likely the event will ever see the light of day.
As a first-timer, your priority should be in just making it happen and making it work. To achieve this you need to give the event one single purpose – whether it's raising money for charity or spreading a message about a cause, or just putting on a memorable show – and then stick to it.
You might also like...