What Type of Event Should I Organise?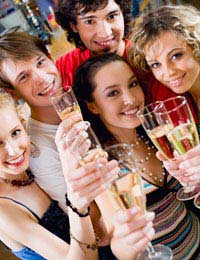 If you want to get involved and promote, celebrate or shout about something by organising an event, then what are the options are open to you?
Get Inspired!
You have a band you want to promote, a village community you want to gather, a charity you want to support, a birthday you want to celebrate – and you want to get involved and organise some kind of event, but where to begin?
Focus on what's special about your event and always keep it in mind.
Give your event something quirky to make it stand out from the crowd.
Don't forget the traditional events – the jumbles and the fêtes – they may not be innovative and unusual but they always drawn in the crowds.
Don't go overboard. In keeping your ambitions modest you'll keep your plans realistic and realisable.
Charity Event
Staging a fundraising event is a fantastic way to support a charity that you particularly care about. It is also a good opportunity to indulge a hobby – such as by putting on a music concert - or complete a personal challenge.
It doesn't need to be a big, worthy event that involves a lot of careful planning and hard work, it could simply be you and your friends, family or colleagues getting together to do something that you all enjoy doing. From pub quizzes to pet shows to go-karting and garden parties, there is literally an endless array of possibilities of potential event types to raise funds for a charity.
A Campaign Event
Campaigning for change is not limited to trudging through the streets holding aloft home-made banners, there are a variety of other ways to get people involved and mobilised. Holding a campaign event is one great method to raise public awareness and generate publicity about a cause that is close to your heart.
Of course, organising an event doesn't have to involve being selfless and giving by supporting others, you could do it for personal artistic or business reasons.
Gigs, Concerts, Happenings…
Perhaps you are performance artist, or part of a theatre group or rock band but have the misfortune of living in a cultural wasteland of a town, with little or no opportunities for sharing your art with the public. Event management gives you the chance to take charge of your future, and help foster a cultural scene in the community by organising a showcase event. You may find that there are lots of other likeminded souls in your area that have been waiting for such an opportunity to rise up and express themselves.
Business Ambitions
There is of course no shame in getting involved in event management because of personal business ambitions, most events taking place across the country are out to make a profit. It offers a great way to get started on your career path, whilst at the same time helping to promote your own particular interests. Most cultural scenes are, for instance, the result of collaboration between business and artistic endeavour.
An Event Celebration
An event doesn't even need to promote, raise awareness, make money or forge a cultural scene, it could just used to put on a celebratory knees-up for friends and family. A 50th birthday, a retirement, anniversary – the number of excuses we have to lay on a grand bash are endless, and putting on an event is an excellent way to make an occasion even more special and memorable.
You might also like...