Avoiding Cowboy Ticket Agencies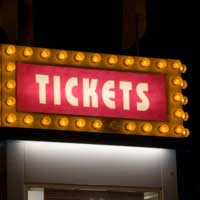 An unwelcome side effect of the boom in event ticket sales is the emergence of cowboy ticket agencies that cruelly exploit people's desperation in getting to that sell-out event.
Cowboy Ticket Agencies
It has become a worryingly familiar story – the fan desperately wants a ticket for a sold-out event, finds a website agency offering them at significant mark up price, pays the money but then never receives the ticket.
Such agencies are not the familiar official names that usually sell event tickets, but otherwise unheard of websites specialising in tickets for sold-out events. As 'secondary ticket agents', they sell on tickets at prices vastly in excess of their face value. These bogus enterprises have also been found to offer tickets they don't have and, in some cases, which don't event exist.
As the most sought after fixtures on the entertainment calendar, pop and rock concerts and sporting events are the main focus of these crooked operations. All too aware that the public take their sport and music very seriously, these immoral characters prey on such passions for financial reward.
High Prices and Non-existent Concerts
Before its closure was duly ordered, one London-based company, Getmetickets.net, was found to have been ripping off consumers by offering tickets it did not have and charging hugely inflated prices for football matches, concerts and West End shows. For one Rolling Stones concert, the agency asked for £1,777 for a £150 ticket.
Not only did the company claim that it could get tickets for sold-out concerts but could also guarantee fans tickets before they had officially gone on sale.
Unfortunately some never then went on sale because they were never arranged in the first place; people were duped into booking tickets for events that didn't even exist. At one point, the pop singer Robbie Williams was even forced to step in and warn his fans about offers of wildly overpriced tickets for non-existent concerts.
Tips to Avoid Cowboys Ticket Agencies
If you follow these basic rules then it is unlikely you will become a victim of these sham ticket agencies:
Get information about ticket purchase outlets from the official event website.
Always use familiar, well established and reputable ticket agencies. Look for the star symbol used to represent members of the Society of Ticket Agents and Retailers or refer to the tickettout.org website.
Never judge the legitimacy of the company on the quality of their website.
Always make sure the agency has a landline telephone number and full postal address.
Never assume the company is UK-based because its web address ends in '.co.uk'.
Look for websites that feature a security encryption facility. When entering in personal information or payment details then make sure the 's' appears in the https://.
Fraud Dangers
The government's consumer advice service, Consumer Direct, has received countless calls from people complaining that their tickets haven't turned up, they are for seats in the wrong location, or that they are counterfeits. Anyone that missed out purchasing event tickets through the official channels need to be well aware of the dangers of trying to get them through secondary ticket agency websites.
You might also like...