The Rise of Ticket Tout Gold Mining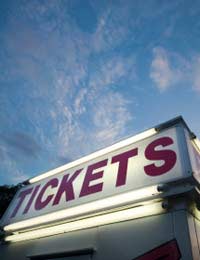 The lack of regulations regarding touting music and sporting event tickets, has led to a marketplace which is increasingly governed by touts and the sites that facilitate their operations.
The Rise of the Tout's Marketplace
In many respects it is a boom time for music fans; live music is in rude health and the internet has made it easier than ever to buy concert tickets. But why then are there so many disgruntled concert goers in the UK?
With more and more fans desperate to get into gigs, the demand often exceeds supply, thus creating a marketplace ripe for exploitation by ticket agencies and touts. Fans often now find themselves either ripped off buying tickets or unable to buy tickets at all, because so many are snapped up by touts looking to profit on their resale.
Anyone Can Be a Ticket Tout
With no rules restricting people for reselling tickets, very regulations on how many tickets one person can buy and no agency return and refund policy, anybody can start up their own secondary market ticket operation and make a good profit. And consequently the ticket marketplace is being squeezed into submission by the large numbers that do.
Basically if you are able to exploit fans' willingness to pay over the odds for sold-out shows without being wracked with guilt then you can be a 'bedroom ticket tout'.
A recent news story featured a fifteen year old boy who instead of a traditional school boy paper round, chose the more lucrative part time of job of being a ticket tout. In the space of six months he had earned £600 from reselling tickets and had big plans of starting to buy them wholesale.
The Websites that Facilitate the Ticket Black Market
These touts would either not exist or be resigned to the street corner if it weren't for the websites that facilitate the trade. The online auction house eBay is the most popular location for ticket touting but since the huge rise in touting profits, websites like Viagogo and Seatwave have been set up explicitly for the purpose.
The small bedroom touts can perhaps be forgiven for their entrepreneurial endeavours, however morally questionable, but these touting websites are the ones shamelessly reaping the biggest rewards out of this black market trade,. They have effectively created a rolling market for high-profile gigs and sporting events. One top promoter condemned these sites as parasites, in their exploitation of both consumers and the artists.
A representative of Seatwave has stated that there is no sinister motivation to the site, and that it was set solely to provide a safe and secure facility for fans to sell on unwanted tickets. He accepted that the site was used by organised touts but said that this was their risk to take and that they did not discriminate between users.
The Big Rewards
The comeback gig of 70s rock legends Led Zeppelin in December 2007 marked a lucrative high for this secondary market goldmine, and one of the major beneficiaries was Seatwave.
Through the online reseller, the average sale price for a ticket to the event at the o2 arena was £7,425. With the standard ticket price being £125, the site and tout rings involved would have raked in astonishing profits, especially as none of the money would have filtered down to the artists or promoters.
Other recent big bonus events for the Seatwave site include Wimbledon 2008, where the top sale ticket reached £2,175 and the international Ricky Hatton and Floyd Mayweather fight, where prices reached an unprecedented £3,050.
An End to the Rise?
The big question is whether this situation can continue. Although calls from artists and promoters for a ban on internet ticket touts has been rejected by MPs on grounds that it will unfairly penalise those who have honest reasons for reselling their ticket, the website facilitating this market have been warned to clean up their act.
You might also like...