Some Charity Event Ideas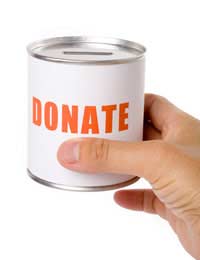 The idea well for charity events is deep and overflowing, but the key is to choose the one that suits you and your locale, and will guarantee a fun time for all.
Crowd Pleasing
The fun factor should play a big part when considering charity event ideas. The more fun a charity event is, the more people want to get involved and more money is raised.
The event should also be crowd pleaser. It's all about raising money and raising the profile of charity, therefore it should be an occasion with a broad appeal rather than a specialist focus aimed at a minority crowd.
Always Choose an Event that you are Interested in
It is advisable for the theme of the event to reflect your own interests and hobbies. If you are a member of a football, golf, hockey, sailing or rugby club, or a keep fit centre, for instance, you could suggest to fellow members the idea of organising a club event. This could be a charity football or rugby match, a golf day, mini-regatta or an 'It's a Knock Out' style sports day.
Quiz Night
If physical exertion is not your thing and prefer to limit social recreation to an evening at the pub for the weekly quiz night, then why not organise your own quiz? It could take place at your local pub, or at a school, village hall or student union.
Money could be raised by charging an entrance fee, or a fee for every wrong answer. If the event is not held in a pub then you get everyone to bring along food and drink, or even get local shops to donate them. In fact with all types of charity it is always worthwhile asking local businesses to lend their support by offering prizes or food hampers.
Other Social Events
Other potential social events could include holding a summer BBQ, garden party or a coffee morning. The money could similarly be raised by charging an entrance fee, arranging a tombola or raffle, or by charging for donated food and drink.
If you are more culturally inclined, then staging a concert or a show might prove to be a suitably involving and satisfying endeavour. A local theatre group could put on a special charity show, some local bands could host a concert or the various performers in the area – the poets, comedians and entertainers – might enjoy getting together to perform an evening of cultural thrills.
Seasonal Fun Days
Many people like to get involved in events that uphold cultural or seasonal traditions, so one idea is to take inspiration from the time of year when the event is due to be held. For instance you could organise a Halloween event, a Bonfire Night celebration, a midsummer's party or a May Day festival.
If there are lots of people willing to get involved, then there is always the seasonal British favourite, the summer fete. With enough interest and enthusiasm a fair can be a big fundraiser, with its varied attractions – including tombola, bric-a-brac, raffle, chutneys and cakes, face-painting – providing amusement for all the family.
You might also like...